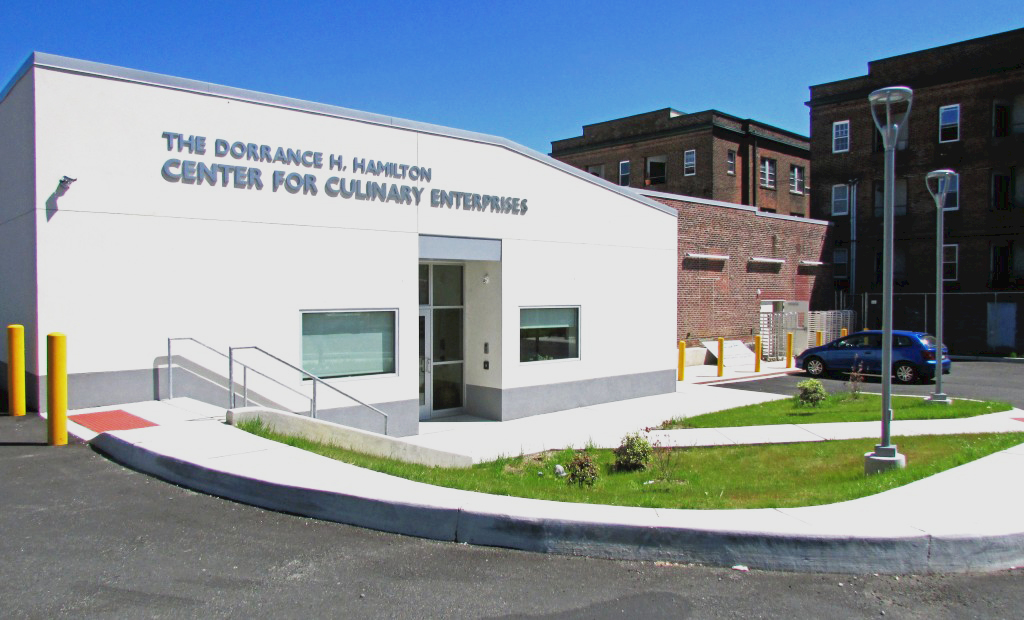 Come late summer, West Philly will be home to two new diverse and palate-pleasing restaurants located in the Dorrance H. Hamilton Center for Culinary Enterprises at 310 S. 48th Street.
For those who love Caribbean-American fusion cuisine, 48th Street Grille will provide a taste of the islands with a focus on seasonal fresh and local ingredients. Owned by Chef Carl Lewis of Catering by Carl Lewis, LLC, 48th Street Grille will serve fresh seafood, pasta, meat, poultry, curry dishes, burgers, salads, soup, vegetarian dishes and sandwiches, and non-alcohol beverages, as well as signature fare from the South and Jamaica, once it opens late summer. The 65-seat dining space will also offer sidewalk dining, take-out service, and full-service catering. It will be open Tuesday – Sundays for lunch and dinner, with mid-week breakfast available through Saturdays. Chef Lewis also plans to host special events for New Year's Eve, Easter, Thanksgiving, and Mother's Day, as well as host midweek Family Dining Nights.
Area vegans and vegetarians craving more chow options in West Philly will find potential in Planet Vegan Café, a sit-down vegan juice bar and eatery opening in late July/early August. The vision of Dorinda Hampton, owner of vegan food company Really Fresh Vegan, Planet Vegan is a reinvention and enhanced version of the restaurant Hampton developed as part of her stint on Food Network's 24 Hour Restaurant Battle in 2010. The 25-person capacity space will feature a full juice bar with all organic juice and smoothies, as well as serve hot and cold sandwiches, hot vegan and veggie dishes, soups, and salads using all healthy, organic, non-GMO products. It will also offer juice cleansing, in which six 16 oz. bottles of fresh-made juice are given for the amount of time needed.
"We want to have a really cool place where people can come, socialize and enjoy people's company," said Hampton, who also owns Sprout Vegan Eatery and Juice Bar, located at 909 E. Baltimore Pike in Kennett Square. "I want to [also] give people a new way of thinking about healthy eating. You don't have to compromise texture or taste. It can be tasty as well as beneficial to your health."
Planet Vegan will be open Mondays – Sundays (hours are yet to be determined), with takeout and delivery options available. Hampton plans to host local entertainment on Fridays and Saturdays, and hold screenings of wellness, health and nutrition documentaries on Sundays.
Opened in September, the Center for Culinary Enterprises was designed to assist start-up and established food enterprises by providing commercial kitchen and food storage space for rent, as well as affordable food business development services. The 13,000+ sq. ft. facility, which is open 24 hours a day, includes four state-of-the-art commercial kitchens, the eKitchen Multimedia Learning Center (a demo kitchen and classroom), and retail space. A third restaurant may open in the space but it could not be confirmed.
-Annamarya Scaccia