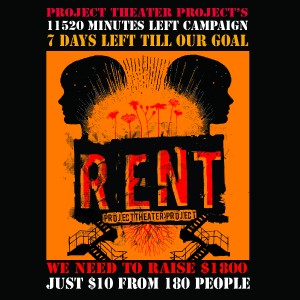 Project Theater Project, a community-based company working on the local production of the School Edition of the musical RENT, set up an IndieGoGo fundraising page to help this project several weeks ago. So far they have raised only about a third of their goal and there is just a week left.
To help get a final push toward their goal the project has begun the 11520 Minutes campaign. The fundraising goal can be achieved if just about 180 people donate only $10. To donate please go here.
Twelve talented young people aged 16-23 have been cast for roles in this musical. This is a rare opportunity for high school aged teens since many school music and theater programs have been cut.
Set in the East Village of New York City the show is about AIDS, HIV, drug usage, homosexuality, and gentrification. But it's also about falling in love and finding your voice.
The shows begin on Dec. 4 at The Rotunda (4014 Walnut Street) and ticket prices are kept low. To order tickets go here. For the full show schedule please check The Rotunda's events calendar.
33 percent of the profits will go to the cast in the form of scholarships to help the teens reach their dreams as performers.