The 40th Street Summer Festival which includes dazzling acts ranging from jugglers and fire dancers to puppets and percussions, kicks off at 5 p.m. this Saturday (July 25) in the green space behind the Walnut West Library near 40th and Walnut.
The festival will also feature live music from Mixed People, Red Cedar Strings (Facebook page) and Au Jus, and entertainment and activities for the whole family.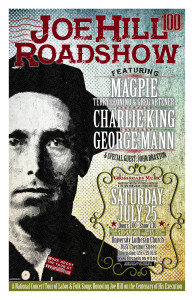 Later on Saturday the University Lutheran Church (3637 Chestnut St.) will host the Joe Hill Roadshow, a tour commemorating the 100th anniversary of the death of International Workers of the World activist and songwriter Joe Hill. Hill, who was executed in 1915, had a long-lasting influence on radical organizing in the country. The tribute concert starts at 7:30 p.m. and includes music from Magpie, Charlie King, George Mann and special guest John Braxton. Tickets for this show are also available at Bindlestiff Books at 4530 Baltimore Ave.
For more upcoming events, please visit our Events Calendar.