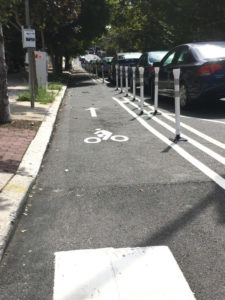 The Chestnut Street Transportation Project, which includes a parking protected bicycle lane, officially opened on Tuesday with a ribbon cutting ceremony. The new bike lane and some pedestrian safety features were added between 45th and 34th Streets as part of the project. The buffered bike lane reduced the three lanes meant for motorized vehicles to two, which allows to slow down traffic in one of the busiest stretches of the street.
Mayor Jim Kenney, who helped cut the ribbon, called the project, also referred to as Chestnut Street Safety Corridor, "a major step towards improving safety for Philadelphia's most vulnerable roadway users." The 2012 Pedestrian & Bicycle Plan identified the corridor as a high crash corridor in need of improvement. "We are excited to introduce the first of this type of project in the City and we'll be back in the coming years with more corridors citywide," he added. 
The project, which stretches for more than one mile of Chestnut Street, also includes significant pedestrian safety improvements, such as shorter roadway crossing distances and painted pedestrian areas. This is the first one-way parking protected bicycle lane in the City, and encourages bicyclists to use Chestnut Street to connect to University City and Center City. The project includes striping, signage and flexible delineator posts to clearly indicate where bicyclists ride and where drivers should drive, load, and park.
Councilwoman Jannie Blackwell, who was also present at the ribbon-cutting ceremony, said she is pleased to have safety improvements along Chestnut Street in her district: "We always try to support the community and we look forward to having a transportation opportunity to benefit all." However, according to a report by Newsworks, she also said that this project may be temporary.
"I'd like to make it a trial basis for three months to see how it works," she told Newsworks. It seems that she made this statement after receiving some complaints from her constituents who live near 47th and Sansom. "…we want to be fair, my first obligation is to the people who put me here," she said.
Although, overall, the reaction to this project has been positive, some drivers who use Chestnut Street to commute to work are not happy about the time it now takes. "This was such horribly planned, 25 minutes to get from 46th to 30th, it's been less then a week and the traffic seems to get worst everyday. All for safe bike lanes but the city should have thought this one out," a West Philly Local reader, Sweeny, commented on our Facebook page.
There have also been reports of car accidents at 45th and Chestnut, where drivers have to switch from three-lane to two-lane traffic.