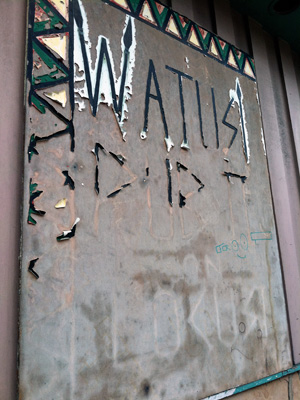 • The building that houses the bar Watusi II at 45th and Locust is for sale and it looks like it will be the end of an establishment that has had sometimes tumultuous relations with its neighbors over the past 20 years. According to the Philadelphia Revenue Department, $67,472 in back taxes is owed on the building at 232 S. 45th St. The four-story, 4,600-square-foot building, which includes upstairs apartments, was listed for sale three weeks ago for $635,000. The building is a former boarding house and the sale includes the Watusi II's liquor license and long u-shaped bar. Serious renovation would be required on the upstairs floors.
The Watusi II reportedly closed several weeks ago after a neighbor complained of code and zoning violations. The building is owned by Noel Karasanyi, who also owns the Watusi I at 46th and Walnut and the New Third World Lounge at 49th and Catherine. Back taxes are owed on all three properties, according to City records. Karasanyi, who fled Uganda in 1973 and whose home address is in Yeadon, also faces several lawsuits from the City. Complaints about excessive noise and trash have been made by many living near all three places for many years.
• Further north on 45th Street, a small pharmacy is opening in the small strip of shops on the 100 block of S. 45th. We don't know much about this one yet, but it appears that it will be opening soon.
• Many of you will be delighted to know that Guacamole, the Mexican restaurant many have waited a long time for, opened today at 4612 Woodland Ave. The restaurant is a welcome addition to the cluster of shops on that block of Woodland, which includes Four Worlds Bakery and the Whispering

Leaves tea shop. The restaurant has about 18 seats and will feature a cooking style from central Mexico. Our trusty reviewer is chomping at the bit to get to this place so look for a story later this week.
• Finally, talk about the Subway opening at the old Pickles and Pies (and many things before that) location at 4533 Baltimore Ave. has heated up in recent days as the Spruce Hill Community Association Zoning Committee prepares its decision for the City zoning authorities (a decision which in the end is not binding). During this discussion, a rumor surfaced that another chain restaurant, Domino's Pizza, was interested in the old Philadelphia Federal Credit Union Building and small parking lot, which is on the triangular strip of land hemmed in by Baltimore Avenue, Cedar Avenue and 46th Street. We have confirmed that report. Domino's was interested, but has so far failed to get the required zoning variances.