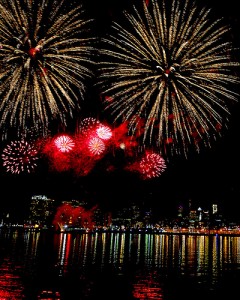 If you're spending the Fourth of July holiday in the city, here's some useful information on the festivities, where you can watch the fireworks, and SEPTA service.
Wawa Welcome America July 4th Fireworks
The July 4th Concert and Fireworks will be held on the Benjamin Franklin Parkway on Wednesday, July 4th beginning at 7:00 p.m. The event is FREE and open to the public. Guests are invited to come early and enjoy the Party on the Parkway featuring food trucks, games, activities and more! The July 4th Concert will end with Philly's largest Wawa Welcome America fireworks show in more than a decade, according to organizers. Produced by Pyrotechico and Comcast, the show will feature new special effects and a soundtrack dedicated to love. 
Where to watch the fireworks in West Philly
If you don't feel like crossing the river tomorrow, there are some good spots in West Philly where you can watch the fireworks. One of them is Drexel Park at 31st and Powelton. Just bring a blanket/chair and some snacks.
SEPTA Adds Service for July 4th Celebration On The Parkway
All SEPTA Regional Rail, bus, trolley, Market Frankford, Broad Street and Norristown High Speed Lines will operate on a Sunday schedule on Wednesday, July 4th, with special late-night service to accommodate holiday revelers from the Benjamin Franklin Parkway.
Market-Frankford Line: A total of ten extra trains will be dispatched starting at 4:30 p.m. to provide service every five minutes. These extra trips will run until 12:30 a.m. to help customers get home after the event. Market Frankford Line Night Owl buses will replace trains at 12:30 a.m. SEPTA's 15th Street Station provides riders access to and from the Parkway festivities.
Because trains will operate on a Sunday schedule, all night train service will be available Tuesday evening, July 3rd into early Wednesday morning, July 4th on both subway lines. Trains will operate on a regular Sunday schedule the entire service day July 4th.
Trolleys: Additional trips will be added on Routes 10, 11, 13, 34 and 36 after the fireworks as needed.
For more information, visit septa.org.