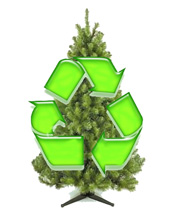 In the next couple of weeks both the City programs and local organizations are offering Christmas tree recycling opportunities to residents.
The City's Residential Christmas Tree Recycling Program will run from Tuesday, Jan. 2 through Saturday, Jan. 13. The 29-year old program, developed by the Streets Department's Sanitation Division, provides citizens with an environmentally beneficial alternative for the disposal of used trees.
Residents who wish to drop off their trees to be recycled may take them to the Streets Department Sanitation Convenience Centers open 8 a.m. to 6 p.m. from Monday through Saturday. 
• 5100 Grays Avenue
• 3033 S. 63rd Street
• 2601 W. Glenwood Avenue
• Domino Lane & Umbria Street
• State Road & Ashburner Street
• 3901 N. Delaware Avenue
There will also be Christmas tree drop off sites located throughout the city at 23 designated locations only on Saturday, Jan. 6 and Saturday, Jan. 13 from 9 a.m. to 3 p.m. Click here to find the location nearest to you.
Some civic associations will also hold tree recycling events. On Saturday, Jan. 6, from 10 a.m. to 4 p.m. at Clark Park (43rd and Baltimore), you can recycle your tree with UC Green and Bartlett Tree Experts. Trees will be recycled into wood chip mulch to be used in Clark Park. Your donation will support UC Green programs in West Philadelphia. More information can be found on the event's Facebook page.
Before dropping off your tree make sure that it's free of all lights, tinsel and decorations and untied. Christmas trees with decorations cannot be recycled.
In addition to recycling trees, residents may follow these tips to re-use their trees:
• Small pine limbs and needles are good winter mulch material for sensitive plants.
• Trees can also become backyard compost.
• Trees should not be burned in a fireplace. The sap from the tree creates foul odors and can coat the chimney with creosote which can cause a fire.
For those households that cannot participate in the recycling program, trees set out for pick up will be collected on regularly scheduled collection day as trash.
The program is for citizens who receive City collected trash and recycling services. Vendors are responsible for making arrangements for the private disposal of their discarded trees.
More tree recycling information can be found here.
In addition to Christmas trees, there are many more items to recycle during this holiday season. Check out this post for more information.