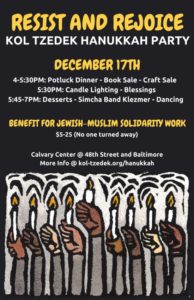 On Sunday, Dec. 17, Kol Tzedek, West Philly's reconstructionist synagogue, is hosting their annual Hanukkah Party. This year, the party is titled "Rejoice and Resist" and will benefit Kol Tzedek's Jewish-Muslim solidarity work.
Kol Tzedek, which means Voice for Justice, has been actively participating in many social justice causes and projects in the area. The synagogue is a member of POWER (Philadelphians Organized to Witness, Empower and Rebuild), a consortium of faith communities from across the city. Kol Tzedek members participate in several social justice projects and movements, including the Jewish-Muslim Solidarity Project, whose goal is "to create relationships with local Muslim communities, and to work with them against Islamophobia and discrimination." 
The Hanukkah Party will feature a potluck with latkes, a craft fair, a Bindlestiff book sale, many games and arts and crafts, a candle lighting ceremony with blessings, dessert, and a Klezmer concert by Simcha Band. There's a sliding scale entrance fee of $5-$25, but no one to be turned away.
Contributions of Vegetarian salads and sides, pre-warmed homemade Latkes, and/or homemade or store-bought Sufganiyot/Bimuelos/Doughnuts are welcome. You can also bring your own menorah and candles.
The party will take place from 4 – 7 p.m. at the Calvary Center for Culture and Community (48th and Baltimore). For more information and detailed schedule of events, go to: http://www.kol-tzedek.org/hanukkah.html
If you can't attend, you can donate towards this project here. And here is a link to the Facebook event where you can RSVP.