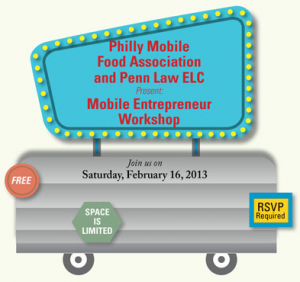 So in case you hadn't noticed there is a food truck – sorry, "mobile food" – revolution happening around the country. Mobile food has become serious business. If you ever thought about starting a mobile food business you need to get to a free day-long workshop at Penn Law School in a couple of weeks.
The Mobile Entrepreneur Workshop will feature guidance on financing a business, copyright and trademarks, regulation and licensing and managing risk and growth. Penn Law's Entrepreneurship Legal Clinic and the Philadelphia Mobile Food Association are sponsoring the workshop, which will be held from 8:30 a.m. to 4:30 p.m. on Feb. 16. Even lunch is free. But there is limited space and an RSVP is required.
For more information and the full schedule, visit the workshop's Facebook page here or call 215-898-8044.