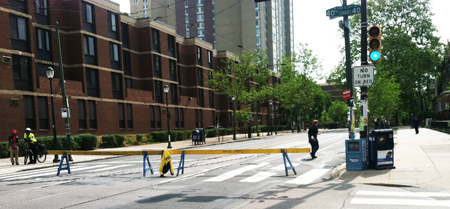 Spruce Street traffic is being diverted between 40th Street to 34th Street as Penn students pack up for the summer. That section of Spruce Street will be closed from 8 a.m. to 8 p.m. today and tomorrow.
The eastbound 42 bus is turning down 42nd Street to Baltimore Avenue. Even bicycle traffic is being diverted on parts of Spruce.
The upside of the traffic diversion is that it's almost "Penn Christmas" – the curbside rummaging that accompanies the student move out at the end of every school year. To lighten the load on the landfill, Penn is once again organizing donations from students – everything from clothes to microwaves to television – that will be sold to the public on June 2. For more information on that, visit the PennMoves website.