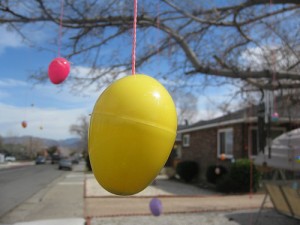 It's not only kids who will get a chance to have fun this Easter. Older folks are invited to hit the streets of Philadelphia in a city-wide Easter egg hunt organized by World Cafe Live. The event will be held on Saturday, April 7.
Here's how it works: Twelve plastic Easter eggs will be laid at various locations throughout the city, each containing a pair of tickets to select upcoming performances. Beginning at Noon, World Cafe Live will Facebook and tweet clues and riddles that lead to each egg (make sure to "Like" World Cafe Live's page on Facebook and follow @worldcafelive on Twitter).
If you find an egg, claim it on Facebook or @reply WCL on Twitter so other hunters can move onto the next clue.
Twelve eggs will be filled with a pair of one of the following performances:
Railroad Earth on Friday, April 13
Railroad Earth on Saturday, April 14
Amy Ray (of Indigo Girls) on Tuesday, April 17
Green River Ordinance on Sunday, April 27
Sam Sparro on Monday, April 23
Bowling For Soup on Wednesday, April 25
Brendan Benson with Young Hines on Thursday, May 3
ALO on Friday, May 11
William Beckett (formerly of The Academy Is…) on Monday, May 14
Ruder Than You on Saturday, May 26
Rhett Miller on Tuesday, June 5
Matthew Sweet (on Girlfriend Tour) on Friday, June 8
Sounds like fun, so grab your running shoes, your friends and your phone (or a map). For more details, check out the event's Facebook page.