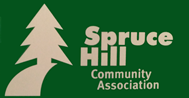 If you live in the area between Market Street and Woodland Avenue and between 38th and 46th Streets (see map here) read on. For a limited time, the Spruce Hill Community Association is offering new members the first year of membership for free, no strings attached. Upon request from SHCA we are publishing their official statement regarding the membership drive:
SHCA is dedicated to serving the community, and we want you to get involved with us. We work on issues that matter – education, zoning, clean-ups, neighborhood plans, public safety. We put on great events like the annual May Fair and the Halloween Parade. And our communications keep members in the loop about community news and events.
To apply, please email Richard Guffanti at RichGuffanti@yahoo.com with your name, address, and phone number(s).
For more information about SHCA and what it does, visit the Spruce Hill Community Association website.