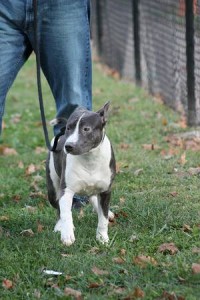 ACCT Philly (Animal Care & Control Team of Philadelphia) is full to the brim and all dogs in the shelter are at risk, so adopting or fostering a dog helps save its life. This week's featured dog is Leona. She is calm, sweet and great on the leash! She is about 2-3 years old, and on the smaller side of medium at 41 lbs. She has a stunning grey coat and huge bat ears that are just waiting for someone to say: "Your new forever home is with me!" In the meantime, this girl is biding her time at the shelter, where she enjoys romping in the play yard and cuddling with her volunteer friends.
She has wonderful manners and is house trained, knows a few commands and is so gentle on the leash – very easy to walk. She would love to be adopted to a home that would take her for walks and let her cuddle on the couch. She's also great with kids. Poor Leona is on treatment for kennel cough and needs a loving home ASAP to recover. If Leona sounds like a good fit for you, stop into ACCT Philly today and adopt her! She is urgent!
If you rather not commit to adopting her, fostering is a great way to save her life to help her find her forever family.
Leona is up to date on his shots, microchipped and will be spayed. So she already comes with "the works".
Ask for her either in the Life Saving Office (fostering) or in Adoptions. ACCT is located at 111 W. Hunting Park Avenue in Philadelphia. Please check www.acctphilly.org for hours. To check the status of an animal, call 267-385-3800 or email acctpetfinder@gmail.com.