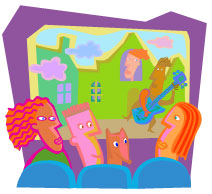 The Rotunda (4014 Walnut Street) will host three afternoons of children's musical play "Becky Butterfly and the Story of the Wayward Wasp." The first one is today at 3 p.m. The show is produced by Fantasy Weavers, a production company affiliated with the musical's author, Philly composer Kate Quinn.
The play focuses on a wasp named Kevin who has been born a male worker in the female workers' world (and gets bullied because of that by other wasps) and Becky the butterfly whose family Kevin bullies in turn. Basically, the message is: it's okay to be different and bullying is not acceptable.
The show is free for kids under 10 years old. Adult tickets are $7 and $5 for students, seniors, and children over 10. Other shows are scheduled for Oct. 9 and 16. To buy tickets online click here.