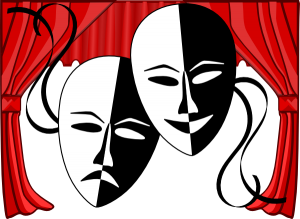 This is an exciting week for local kids, teens and adults who love theatre and are interested in acting, with a few new educational programs and events launching in the area. Here are the details:
New Drama/Acting Classes
The Community Arts program at the Woodland Presbyterian Church located at 401 S. 42nd Street is starting an eight-week (Feb. 7 – March 27) drama class on Thursday afternoons, 4:00-5:00 p.m. and children ages 5-14 are welcome to participate. Kids will play drama games, learn acting techniques and perform in a culminating production. A donation of $20/participant is suggested to help cover program costs. To register or for more details, please contact Carol Shih at carol.shih@woodlandpres.net.
Theatre and Me, LLC (Facebook page), a new company providing training and development for kids, teens and adults in the performing and creative arts, i.e. theatre, dance, voice, etc., is holding an Open House/Information Session about their upcoming classes on Saturday, Feb. 9, 2:30-3:30 p.m., at Dreaming Tree Music (4721 Pine St.). For more information, contact Marcus Siler at theatreandmewithmarcus@gmail.com.
New Kids Show at Curio
Curio Theatre has prepared an exciting new show for kids: Hansel and Gretel, the beloved fairy-tale by The Grimm Brothers was adapted for the stage by Rosemary Fox and will run on Saturdays at 2 p.m. on Feb. 9, 16, 23 and March 2. Tickets ($10) are available here.