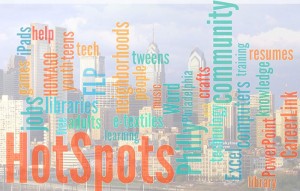 Spring Break is here for most city schoolchildren and we wanted to pass along information about some free activities for West Philly kids this week. The Free Library Hot Spots at select West Philly locations will offer some fun events from Monday, March 25 through Thursday, March 28, where kids, tweens and teens can learn how to make video games online, spice up their wardrobe with e-textiles, practice their DJ skills, make videos, and more.
At Blackwell Regional Library (52nd and Sansom), teens and tweens ages 12 and up can visit the Hot Spot to get creative. On Tuesday, March 26 from 2-4 p.m., teens at Blackwell can create and play video games. On Wednesday, March 27 from 1:45-3 p.m., there will be creative digital freeplay, from making beats to editing photos and making videos.
From Monday, March 25 through Thursday, March 28, teens, tweens, and kids ages 8 and up are invited to visit the Free Library Hot Spot at Heavenly Hall located at 4015 Poplar Street (Hours: 10 a.m. – 1 p.m. and 1:30-4:30 p.m.) to make video games, edit music, create an e-textiles project, or edit photos. Also, from 1:30-4:30 p.m. on Thursday, March 28, there will be a dance party to close out the week.
If you have questions about these events, please email Jazmin at: idakaarj@freelibrary.org