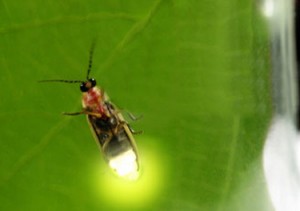 The Woodlands Mansion and Cemetery is partnering with The Academy of Natural Sciences of Drexel University to bring a very cool event to nature lovers of all ages. On Tuesday, Aug. 6 everyone is invited to the Firefly Night  from 7-9 p.m. at the cemetery at 40th and Woodland. Bring your blankets, picnic and flashlights and witness these wonderful glowing bugs that the Woodlands grounds are full of after dark.
Insect experts from the Academy of Natural Sciences will be on hand to share their knowledge and expertise with buggy activities, live insects, and a one-size-fits-all firefly costume for visitors to try on. The Lil' Pop Shop, a local artisan popsicle shop, will be onsite too with their popsicle truck.
This event coincides with the exhibit Glow: Living Lights, which is currently on display at the Academy of Natural Sciences (until Sept 29, 2013). Glow: Living Lights takes visitors on a journey through land and sea in pursuit of creatures with the incredible ability to produce their own light. Fireflies are some of the few animals lighting up the dark through a mysterious process called bioluminescence. For more information, visit The Woodlands website.