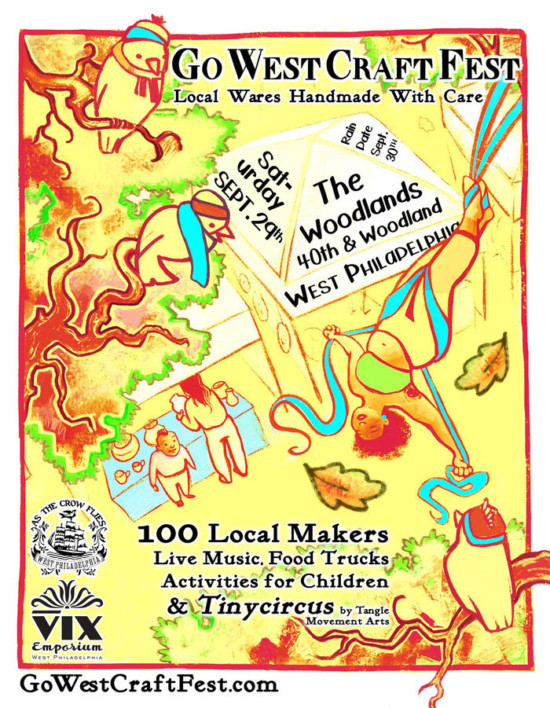 The Fall edition of Go West! Craft Fest, featuring wares by 100 local makers, live entertainment and food, will be held this Saturday, Sept. 29, at The Woodlands (40th and Woodland). You can shop all day (11:00 a.m. to 5 p.m.) for unique and creative stuff, including artisan jewelry, ceramics, home wares, clothing, cards, candles, soaps, scents, sweets, toys, tinctures, treasures, and works of art. The full list of vendors and their offers can be found here.
And here's the schedule of live performances:
12:00 p.m. – The Ludlow Five
1:00 and 2:00 p.m. – Philly Con Sabor
1:15 p.m. – West Philly Foot Tappers
2:15 p.m. – The Foxy Doxies
3:00 p.m. – Tangle Movement Arts
4:00 p.m. – Vessna Scheff 
Free face painting for kids (by Meta Zhuraw of MetaArts) will be available from 12 – 3 p.m., as well as children's craft activity with Black Hound Clay Studio.
Finally, if you get hungry or want some sweet treats, Kung Fu Hoagies, The Chai Bar, Weckerly's Ice Cream, and Lil' Pop Shop trucks will be on site.
By the way, this Saturday will be the final Go West. The organizers are changing the name due to the phrase's "hurtful colonialist associations." You can suggest a new name on Facebook or Instagram. The new name will be announced on October 6 as the event organizer, VIX Emporium, will open vendor applications for December 9's event at the Rotunda.