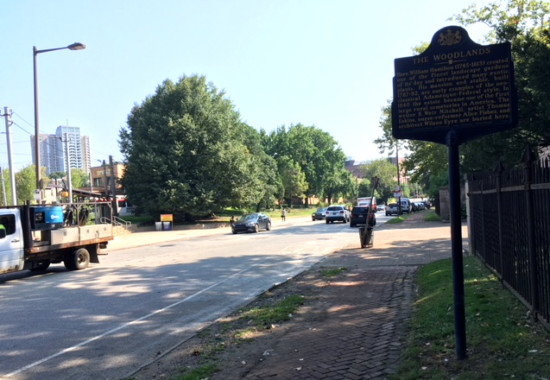 The Woodlands has started an online petition asking for community support for a crosswalk from the 40th Street trolley portal to the cemetery gates across Woodland Avenue.
The upcoming opening of the Trolley Portal Gardens has renewed interest in figuring out a way to make crossing Woodland Avenue safer for pedestrians. The Woodlands estimates that some 45,000 people visited the grounds last year, including about 4,000 in one day during the Go West! Craft Fest (see tweet and video below), many coming on foot across Woodland Avenue. 
"Without any lights or stop signs, there isn't anything to slow cars from 39th to 42nd Street," the petition reads. "For that reason, cars tend to speed down this stretch."
Specifically, The Woodlands is asking for:
• A safe way to cross Woodland Ave from the Trolley Portal
• A way to slow cars
• Prevent illegal U-turns
• Install loading zones for those dropping off/picking up passengers
The petition is addressed to Councilwoman Jannie Blackwell and renews calls for a crosswalk voiced during public meetings on the portal renovations in March 2016.
People come to @woodlandsphila for events like today's #GoWestCraftFest all the time… crossing Woodland Ave from the Trolley Portal

Design that prioritizes pedestrians would demand a crosswalk

Instead, it's clear that vehicular speed/thruput is more important than #visionzero pic.twitter.com/P40jTFhnAz

— Jonas Maciunas (@JonasMcivitas) April 28, 2018