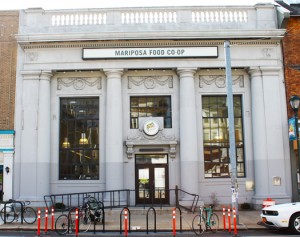 Mariposa Food Co-op is planning to directly support local community groups and organizations through a new initiative – Round-up for Change. The Co-op is currently accepting applications from Philly-area groups and organizations to receive funding/donations from this initiative, which is expected to launch in early September.
Through the program, the Co-op will donate the extra change when shoppers choose to "round-up" their purchase to the nearest dollar, at the register at their store at 49th and Baltimore. 
Local organizations whose missions or objectives carry out one of the following will be considered:
• Promotes nutritious foods and healthy diets
• Promotes food justice and/or social justice
• Environmental responsibility
• Running a cooperative organization
• Serves Mariposa Food Co-op's immediate community and neighborhood
• Supports education initiatives
• Promotes urban agriculture and/or local food economy
• Promotes grassroots, community development
For Mariposa, giving back to organizations/groups that positively impact the Co-op's neighbors and fellow Philadelphians is in step with Cooperative Principle #7 – Concern for Community.
For more information and to apply, go here. The deadline is August 13th.