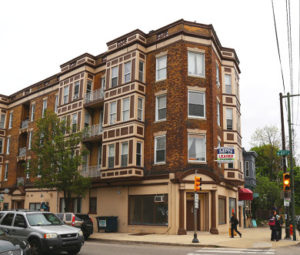 In 2016, we reported on the possibility that Loco Pez, the cash-only Fishtown taqueria, was opening a new location at 47th and Baltimore, in the spot that the Carrot Cake Man used to occupy in the old Montrose building. What ever happened to that plan? According to a local realtor's website, Loco Pez signed a lease for the space in early 2016, but since then progress has been erratic.
For many months there was little to no activity, then eventually various construction permits for a sit-down restaurant appeared in the window, but construction seemed to stall as of late last Autumn. The location's liquor license is in "safekeeping" status, which means that it's still attached to that location, but not currently active. Only in the last few weeks have local residents reported renewed activity inside the space. 
We couldn't reach the owners of Loco Pez in time for this article, but the lease information and the fact that the liquor license is registered to a corporation with the same home address as one of the owners of Loco Pez would seem to confirm that the Montrose building it is in fact the long-awaited West Philly outpost of the divey taco bar. The recent uptick of activity in the space and chatter among hospitality industry professionals suggest that work on the location has restarted and is progressing, but the status of the liquor license and a lack of hiring activity seem to indicate that the opening isn't going to happen anytime soon.
We will keep you updated as we learn more.
– Mike VanHelder