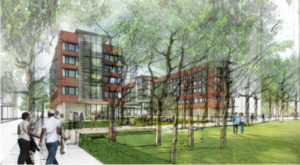 Residents are invited to a Spruce Hill Community Association (SHCA) Zoning Committee meeting on Monday, Feb. 12 to learn more about the residential complex proposed for green space on Penn's campus next to Walnut Street West Library on 40th Street (see rendering). University of Pennsylvania announced plans for the new, 250,000-square-foot undergraduate college house in the fall.
While zoning is not in question for this development, according to SHCA Zoning Committee Chair Barry Grossbach, current law requires that this project be brought to the convening RCO (Registered Community Organization) prior to submission and review by the Committee for Design Review at the city Planning Commission. Representatives from the Penn's offices of architecture and management will be present to discuss the project. 
The meeting will be held at the Spruce Hill Community Association's Office at 257 S. 45th St., beginning at 7 p.m. and will also include discussion of restaurant signage at 3816 Chestnut St., the location of the historic Hamilton Court apartment complex currently undergoing renovation. Five restaurants signed leases for the ground-floor retail space at the complex last year.
Any interested parties are encouraged to attend the zoning committee meeting, hear the presentations, and offer questions or comments.