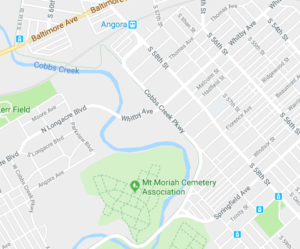 Improvements are coming to the Cobbs Creek Parkway, which has been identified as problematic due to its speeding traffic, complex intersections, and high rates of pedestrian and vehicular crashes. Residents are invited to learn more about the planned improvements at a community meeting, which will take place on Wednesday, Dec. 13, at the Police Department's 12th District Headquarters at 65th and Woodland. The meeting is scheduled to begin at 6 p.m. 
Those who use Cobbs Creek Parkway or Cobbs Creek Trail between 60th Street and 70th Street are also asked to complete an online survey. The survey asks such questions as "How often do you use Cobbs Creek Parkway and/or the Cobbs Creek Trail?", "How safe do you feel near Cobbs Creek Parkway?", and asks to identify the biggest issues near Cobbs Creek Parkway. The survey is prepared by the Philadelphia City Planning Commission's Lower Southwest District Plan. Click here to access the survey.
The DVRPC study is examining intersections that link the Parkway with Lower Southwest neighborhoods, to work out traffic calming and pedestrian safety measures, improve transit connections, and stormwater management.