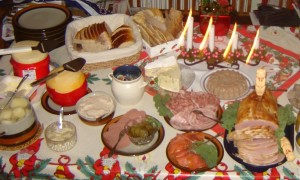 Cedar Park Neighbors in cooperation with area churches and other nonprofit organizations, will again prepare and distribute food baskets for those in need during the holiday season. The 2017 CPN Holiday Food Drive is currently underway. The suggested donation is $36. Support at this amount will help CPN supply meals for two families.
In 2016, CPN was able to reach over 150 local families. 
To make a donation please visit this link.
You can also mail your donation to:
Cedar Park Neighbors Holiday Baskets
Calvary Community Center
4740 Baltimore Avenue
Philadelphia, PA 19143
Volunteers are also needed for the CPN holiday basket packing and distribution event, which will take place on Saturday, Dec. 16, 2017, from 8:30 to 10:30 a.m. at Renewal Presbyterian Church, located on the corner of 47th St. and Cedar Ave. If you would like to volunteer or if you have questions please email: holidaybasket@cedarparkneighbors.org. If you are interested in donating bulk items, please contact Michelle Lewis at holidaybasket@cedarparkneighbors.org