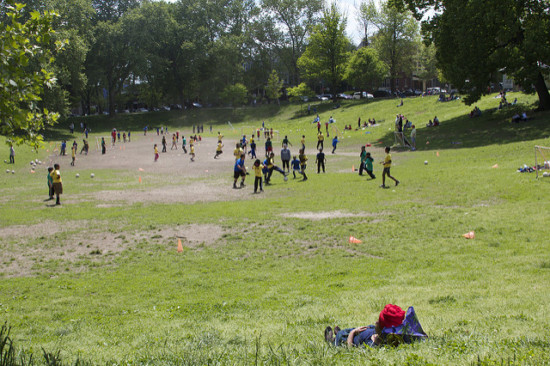 Twice a year, Clark Park Youth Soccer League invites local kids ages 5-11 to participate in the program held at Clark Park. The Fall season starts Sept. 23rd, and while there is no shortage of kids signing up, this low-cost program is still looking for volunteer coaches.
If you like to play soccer, know a little bit about the game, and enjoy running around and having fun with kids, please consider volunteering for this program.
The Fall season continues through mid-November. It takes place on Saturdays, with kids ages 5 to 7 playing from 10:30 a.m. to Noon, and ages 8 to 11 playing from Noon to 1:30 p.m. Volunteer coaches are asked to commit to being there most of the Saturdays through the season. Three or four coaches will be assigned to each team so that you'll always have backup.
Clark Park Soccer is a non-competitive program, aimed at giving kids of any ability the opportunity to have fun, get some exercise, and learn the basic skills of the game. You can read more about the program here or email: clarkparksoccer@yahoo.com if you're interested.
Coaches of all ages and abilities are welcome; the only requirement is that you like to have fun!