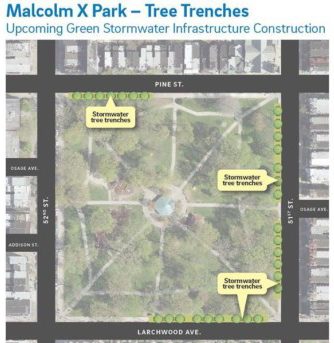 Here's some great news for Malcolm X Park and neighborhood residents. The Philadelphia Water Department is working on bringing green improvements to the park, which will include specially designed tree systems that will help manage local stormwater while adding new green features to the park's square located at 52nd and Pine.
Residents are invited to learn more about this initiative at tonight's community meeting organized by the Water Department and the Friends of Malcolm X Park. The meeting will be held at the park, beginning at 6 p.m. weather permitting, but will move to Lois' Learning Tree (430 S. 52nd St.) in the event of rain.
The planned improvements are a part of the city's Green City, Clean Waters program, which uses landscaped green tools to improve neighborhoods and protect local waterways from stormwater pollution.