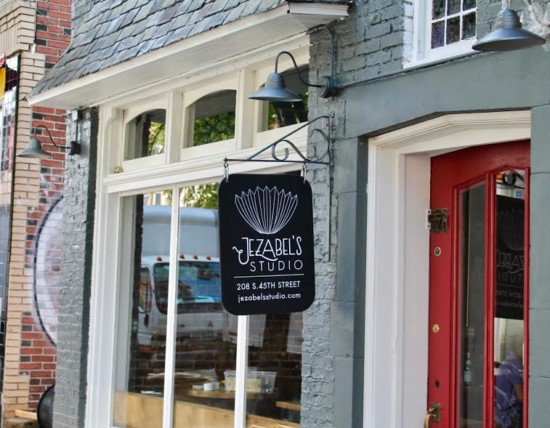 Chef Jezabel Careaga, a native of Argentina whose Jezabel's Café at 26th and Pine has been named one of Philly's best "under-the-radar breakfast places," is bringing her empanadas, alfajores, specially made mate tea and coffee to an intimate storefront near 45th and Walnut.
Jezabel's Studio will open tomorrow, July 12, at 208 S. 45th St. At only 400 square feet, Jezabel's Studio will definitely not be a place to park with your laptop. But Careaga is making the most of the space, which includes a small indoor sitting area (there are a couple of seats on the sidewalk too).
Offerings will include a variety of her signature empanadas (yes, they have a vegan option) as well as alfajores, Argentine shortbread cookies that are filled with dulce de leche and rolled in coconut shavings. 
The menu also includes French-pressed coffee, and a variety of teas. She will also offer a variety of unique-to-the-area, kitchen-focused household items, Argentinian-made kitchen towels, aprons, as well as variety of items that Careaga crafted herself (including cutting boards and even coffee tables).
Careaga says she also plans to host a monthly Pop-Up Bar de Pinchos, which she currently offers on the second Thursday evening of every month at Jezabel's Cafe. Guests are encouraged to stop by (BYOB) and enjoy a menu of pinchos (hors d'oeuvres) prepared by Careaga.
For Careaga, Jezebel's Studio is a return to her old neighborhood. She lived near 43rd and Pine when she first arrived in Philly.
Jezabel's Studio will be open Wednesday through Saturday from 11 a.m. to 7 p.m.
The Jezabel's Studio website is still under construction, but you can check its social media pages (Facebook, Twitter, Instagram) for more info and updates.
(Photos courtesy of Jezabel's).