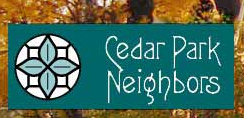 Do you live in Cedar Park and want to get more involved with the neighborhood? Here's a great chance. The Cedar Park Neighbors (CPN), the recognized community organization for the Cedar Park neighborhood, is currently seeking new board members to serve the community for the next two years beginning in June 2017. The following message was recently posted on the CPN website:
"Are you a renter, homeowner or business owner? Are you a long-time resident or a recent transplant? People of color, women, men, trans and gender non-conforming people, queer people, people with disabilities, elders and young people are encouraged to run. If you live or work in Cedar Park and are dedicated to improving our community, please participate in your neighborhood board!" 
Interested individuals are asked to email CPN President David Hincher by Friday, March 10 at president@cedarparkneighbors.org
The election to the CPN Board of Directors will take place on Monday, April 17 at the annual membership meeting which will be held at the Calvary Center (48th and Baltimore).
More information about CPN Board membership, including member responsibilities, is available here.