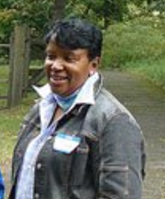 Funeral services for beloved West Philly community activist and acting executive director of UC Green, Winnie Harris, who was found shot to death in her Powelton home last Friday, will take place Monday, Feb. 13.
The funeral will be at the Christ Community Church of Philadelphia (4017 Chestnut St.), beginning at 10 a.m. A closed casket Memorial Hour will begin at 9 a.m. Burial will be at the West Laurel Hill Cemetery, 215 Belmont Avenue, in Bala Cynwyd, followed by a reception for family and friends.
A number of community organizations where Harris, a longtime Powelton resident and green space advocate, has been involved with posted their messages grieving her tragic death. 
"Winnie was the beating heart of UC Green: fiercely protective of the many youth who got their first job with the Green Corps, meticulously organized in coordinating thousands of volunteers in tree plantings and community events, and a beloved figure to the many neighbors that benefited from her tireless passion for a greener Philadelphia," UC Green's Facebook post reads. "She will be dearly missed."
The Friends of Clark Park, where Harris was coordinating recent Christmas Tree Recycling and MLK Day of Service events, have posted the following message on their website:
"Winnie was a tireless advocate for building community through care of each other and care of our neighborhood, and was a beloved friend of Clark Park. Her life being cut short is an enormous loss and she will be greatly missed."
Harris, 65, was found shot to death in her West Powelton home on the 300 block of N. Holly St. on Friday, Feb. 3. So far no arrests have been made. The investigation continues.