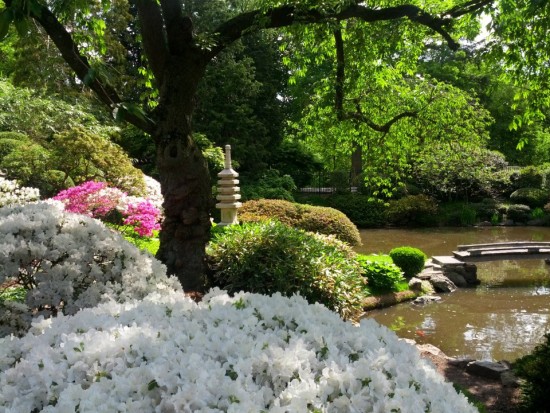 Parks on Tap is a cool new program by Philadelphia Parks & Rec and Fairmount Park Conservancy that brings a traveling beer garden from park to park for 14 weeks, including a stop at Clark Park during Shakespeare in Park.
From July 8 to July 10, the program will make a stop at the beautiful Shofuso Japanese House and Garden in West Fairmount Park at Landsdowne and Horticultural Drives. Guests can enjoy craft beer, delicious food, and family-friendly activities all weekend long. There will also be FREE admission to the garden and a special $5 admission price into the house.
Parks on Tap will also offer Maha Yoga on Saturday and coincide with Family Tanabata weekend and Japanese Tea ceremonies on Sunday. The Tea Ceremony is an additional $30 and requires a reservation. Hours of operation are Friday and Saturday 1 to 11 p.m. and Sunday 12 to 10 p.m. 
UPDATE: Parks on Tap will be at Belmont Plateau in West Fairmount Park from July 14 to July 17. Everyone is invited to experience one of the best views of the Philadelphia skyline in the city. On Thursday, you can give back to the Plateau by joining the Belmont Plateau Trails Alliance (BPTA) for a happy hour from 7:30 p.m. to 9:30 p.m., with 50% of sales going to BPTA.
And on Saturday, July 16, the Plateau and Parks on Tap are helping host the Do-Over Festival. It's one big hip-hop party with a mystery line-up of DJs from 1 – 8 p.m. for FREE – you just have to RSVP here: http://www.thedoover.net/kickbackseries/philly/.
Hours of operation are Thursday 5 to 10 p.m., Friday and Saturday 1 to 11 p.m. and Sunday 12 to 10 p.m.
On Wednesday, July 27 through Sunday, July 31, Parks on Tap will be at Clark Park (43rd and Chester), coinciding with Shakespeare in Clark Park performances. Hours of operation will be Wednesday & Thursday 5 – 10 p.m.; Friday & Saturday 1 – 11 p.m.; Sunday 12 – 10 p.m. Other events will include: the Free Library of Philadelphia Book Bike program will be in the park on Friday. 1 – 4 p.m. This program provides mobile outreach throughout the city – you can check out a book right in the park! On Saturday (July 30): Maha Yoga will be held at the park from 12 – 1 p.m. (pay what you can).