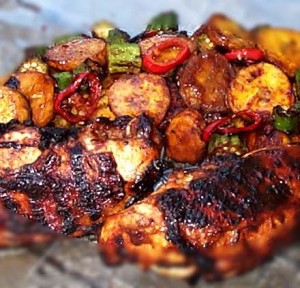 Caribbean Cuisine Week, an annual event supporting young Caribbean athletes competing in the Penn Relays, will take place April 13-15, 2016 and kicks off on Tuesday, April 12, at Zavino UC (32nd and Chestnut). Visit Philly has listed it as one of the top 12 events in the city for this month.
Now in its 12th year, CCW partners with chefs throughout the city who prepare Caribbean and Latin-themed dishes at special prices. A portion of the proceeds goes to provide 3,000 hot meals, ground transportation, housing and medical services to over 700 economically-disadvantaged high school athletes from the Caribbean coming to the Penn Relays (last week of April).
The Penn Relays is the largest track and field event in the United States, drawing over 115,000 people to Philadelphia each spring. The 2016 Penn Relays will be held April 28-30 at Franklin Field. 
Besides Zavino, two more West Philly-based restaurants are participating in the event: 48th Street Grille (on 48th between Pine and Spruce) and Sabrina's Cafe in Powelton (227 N. 34th St). Chefs of both restaurants hail from the Caribbean – 48th Street's chef Carl Lewis (pictured left) is from Jamaica and Sabrina's chef Rob DeAbreu is from St. Kitts. DeAbreu owns four more restaurants in the city, all of which are participating in the event.
For the duration of the event, Wednesday through Friday, 48th Street is offering a 3-course meal for $30 (to see a sampling of their food click here to see a video from FOX TV with Chef Lewis).
Other specials include Grilled Jerk Seasoned Setain and Linguine Island Seafood Scampi at Sabrina's.
The Caribbean Cuisine Week Kick-off event at Zavino UC will be held on Tuesday, Apr. 12, from 6 – 8 p.m.
For more information, visit: www.caribbeancuisineweek.com. (Photos courtesy of Caribbean Cuisine Week and The Penn Relays)