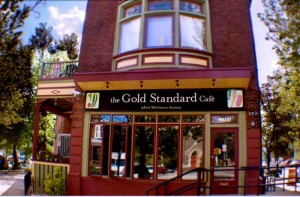 About 35 years ago Roger Harman and a partner opened a small café in a former laundromat at 47th and Chester. They named it The Gold Standard. A few years later they renamed it The Palladium and moved it to Penn's Arts, Research and Culture House (ARCH) on Locust Walk where it operated for 20 years.
Then, Harman teamed up with Vince Whittacre to open Abbraccio, an Italian restaurant at 47th and Warrington (where the Vietnam Café is now). That closed, but six years ago they were back in business at 48th and Baltimore with a name that saluted the old days, opening The Gold Standard Café, the ever-pleasant coffee shop/restaurant/outdoor bistro that quickly became an institution along that section of Baltimore Avenue.
Now it's on the market.
"We're getting tired," said Harman.
He couldn't provide too many details on the effort to sell the restaurant, but said that its future will be a lot more clear in a week or two. We'll keep you posted.
– Mike Lyons