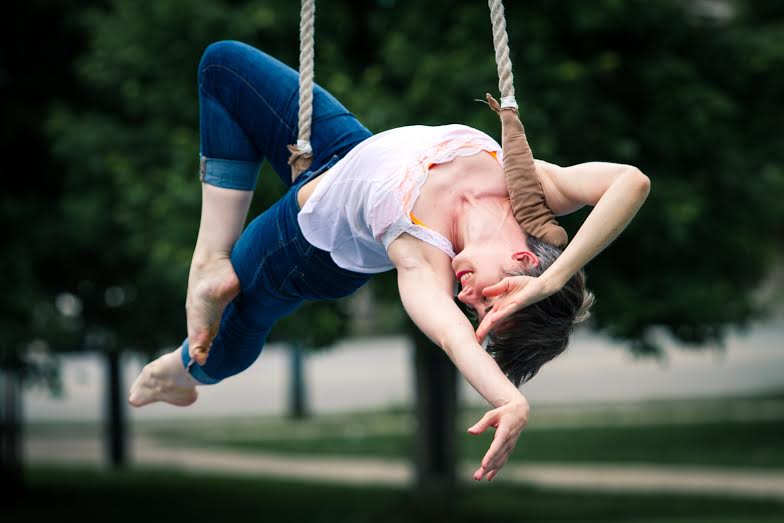 UPDATE (5/27/2015): Due to rain in the forecast for this Thursday, the show has been postponed until next Thursday, June 4. 
Tangle Movement Arts, a West Philly-based acrobatics company known to many by their Tiny Circus performances at Go West! Craft Fest at The Woodlands and other venues, is bringing an all-new, free and family-friendly show, Intersections, to Clark Park this Thursday on Thursday, June 4.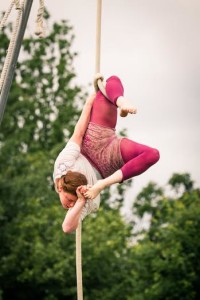 Intersections celebrates the broad communities that gather in the park and the dynamics of daily life. The acrobats will be disguised as normal visitors to the Clark Park Farmers Market, from vegetable shoppers to playground-visiting children to commuters on their way home. The show also celebrates the chance meetings that happen in our public spaces.
Tangle Movement Arts is a circus arts company with an interdisciplinary focus; its work integrates traditional circus like aerial acrobatics with dance, theater, and live music, with an emphasis on queer and female experiences. Tangle has been thrilling audiences with dynamic circus-theater since its inception in 2011.
Intersections premieres at the park near 43rd and Baltimore on Thursday, May 28 June 4 at 6 p.m. The show is part of the City of Philadelphia's Performances in Public Spaces program, managed by the Office of Arts, Culture and the Creative Economy.
(Photos courtesy of Tangle Movement Arts)