One of this weekend's highlights is the Spring edition of Go West! Craft Fest. The popular annual event is returning this Saturday (April 25) to the beautiful Woodlands grounds at 40th and Woodland Ave. and bringing dozens of artists and crafters, food, music and fun. Here are the deets:
The event will be held from 11 a.m. – 5 p.m. at the front of the Woodlands (entrance on Woodland Ave). Around 100 artisans will present their handmade items, such as jewelry, accessories, ceramics, home accents, soaps & candles, toys, terrariums, prints, stationery and much more! The previous craft fest, held in December 2014, was a big success with scores of people shopping for holiday gifts. The upcoming event is a great opportunity to buy something unique for Mother's Day.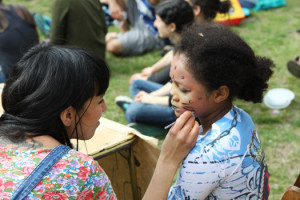 The spring edition of Go West! Craft Fest is also a great family event. While parents are browsing the stalls, kids can enjoy live music and other performances and activities. The University City Arts League and the 34th Woodland Rangers Scout troop will be providing free craft activities, and there will also be free face painting. And here's the performance schedule for this Saturday:
11 a.m. – The Green Tambourine
12:30 p.m. – Jay Sand, All Around This World
1:30 p.m. – Silverton
2:30 p.m. – Philadelphia Women's Slavic Ensemble
3 p.m. – Tinycircus by Tangle Movement Arts
4 p.m. – Shakey Lyman & Sean Dorn 
If you get hungry there will also be several food and snack options at the Fest served by local eateries and food trucks: Aksum Mediterranean Cafe, Taco Angeleno, Black Orchid (vegetarian comfort food), Kung Fu Hoagies, Satellite Cafe, Weckerly's Ice Cream and the Lil' Pop Shop.
Finally, during the Fest hours visitors can participate in The Woodland Cemetery tours (come up to their table near the main entrance to sign up). There will be two tours – at noon and 2 p.m., and tickets are $10 for adults and free for accompanying children. Here are more details:
Noon – Wonders of The Woodlands – Join a guide for a stroll through the grounds to learn about the unique 54 acre site, its monuments, and famous residents.
2 p.m. – Hamilton's Horticultural Legacy – Walk the grounds and learn the significant horticultural history of The Woodlands, from the 18th century to today. Tour-goers will leave with a seed packet of flowers cultivated by William Hamilton at The Woodlands!
For more information about Go West! Craft Fest go here or visit its Instagram page.