Here's a roundup of some development projects going on in West Philly neighborhoods.
West Philadelphia Earthship
A vacant lot at 675 N. 41st Street will soon become the location for the first ever urban Earthship, a completely sustainable building built from recycled materials, Generocity.org reports. The idea of an urban Earthship was proposed by Rashida Ali-Campbell, founder of Yeadon-based nonprofit Love, Loving, Love, Inc., and the lot owner, Thomas L. Miller, liked it so much that he donated the lot to the cause.
The West Philadelphia Earthship will house a Philadelphia branch of Love, Loving, Love, Inc., which specializes in holistic health education. The organization is planning to offer healthy-living workshops and other free community activities in their new Earthship office, according to Generocity.org.
The foundation of the Earthship has already been laid, and the main construction is planned to start in February. It will take about six weeks to complete, but it depends on how successful the fundraising campaign for the project is. To support the West Philadelphia Earthship, go to this IndieGoGo page. For more information about this project, read Generosity.org's article here. 
Apartments to Replace Old Mantua Church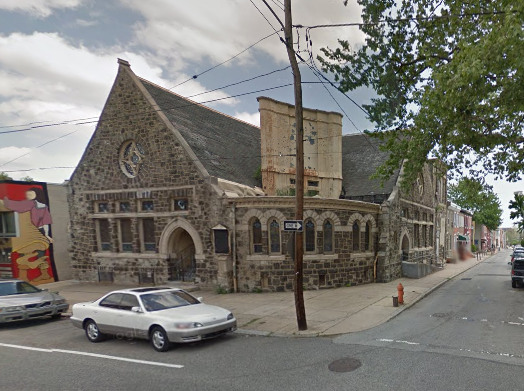 An old Baptist church at the corner of 34th and Brandywine has been demolished to make room for an 11-unit apartment building, according to a report by Naked Philly. The late 19th century church building was purchased last year for $430,000 by Phila Rent Inc., and the apartments that will replace it will likely be used for student housing.
Here's what renowned local journalist Inga Saffron had to say about this news:
Philly loses another distinctive church to cookie-cutter rowhohouses. http://t.co/lrwLJ2wdtf

— Inga Saffron (@IngaSaffron) January 7, 2015
"Topping-Off" Celebration at 3737 Chestnut Residential Tower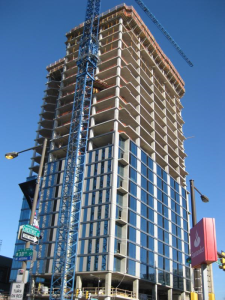 The construction of the 25-story residential tower, "3737 Chestnut," is nearing it completion, and a celebration of the topping-off will take place at the site this Wednesday, Jan. 14, at 1:30 p.m. The property developer, Radnor Property Group, is "very pleased to be at this dynamic location," according to its president, David Yeager. "This energetic, vibrant neighborhood is quickly growing into Philadelphia's second downtown," Yeager said in a press release.
The 276-unit building is owned by 3737 Chestnut, LP. It offers one-bedroom, one-bedroom with den, and two-bedroom apartments and caters to urban professionals and graduate students. The 3737 Chestnut project also contains 6,300 square feet of corner retail and restaurant space, with street-level areas for outdoor tables and chairs. The entire project includes the new Episcopal Cathedral Center, adjacent to 3737 Chestnut, which comprises construction of a three-story office building, a community center, an early learning childcare center, and improvements to the historic, 19th-century Cathedral building.
The project is going according to the schedule, with the move-in date for the first residents being Aug. 1, 2015. More information is available here.