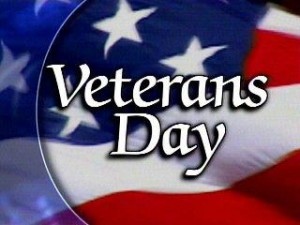 Veterans Day is this Monday and some events and happenings are taking place in the area this weekend to honor and support local men and women who served in the Armed Forces.
On Saturday, Nov. 9, Veterans Day Commemoration is scheduled in the northern section of Clark Park near the Gettysburg Stone (near 44th and Baltimore Ave.) Everyone is welcome to join the Friends of Clark Park, students of the HMS School for Cerebral Palsy and the Boy Scouts in honoring veterans. The event begins at 11 a.m. If you are a local veteran reading this, you can be honored too. Please call 215-222-2255 and leave your name and phone number.
Also tomorrow, dozens of volunteers from Rebuilding Together Philadelphia will gather to renovate the Veterans Group Home at 3209 Baring Street (in the Powelton Village area). The volunteer work team will build a new gazebo for the home, install a new grill and cooking area and renovate the first-floor bathroom. The work will take place from 9 a.m. until 3 p.m. and HGTV and DIY Network will be there to film it.
The Veterans Group Home, which has the capacity to house 48 men, is located on a quiet tree lined street and includes two-three story homes that are joined in the rear of the property by a shared kitchen and two dining areas.