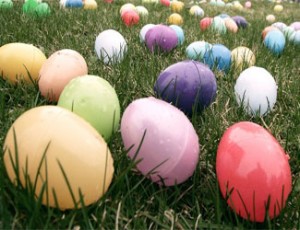 As always, we are publishing information on upcoming Easter egg hunts in West and Southwest Philadelphia. If you know of any other Easter egg hunts, please drop us a line at: editor@westphillylocal.com or post in the comments below.
Saturday, March 30
Easter Egg Hunt and Crafts & Fun in Clark Park
Where: Next to the toddler playground (43rd and Chester)
When: 11 a.m. – 1 p.m. (rain or shine!)
Who: Age 1 – 8
The event is being hosted by the Renewal Presbyterian Church (47th and Cedar). Participants should sign up for the egg hunt at the beginning of the event. Contact information:  e-mail: office@renewalchurch.org, phone: 267-564-5105.
Spring Egg Hunts at Walnut Street West Library

Where: 40th & Walnut
When: 10:30 a.m.
Who: Preschool age kids
When: 1 p.m.
Who: School age kids
The Spring Egg Hunts are sponsored by the Friends of the Walnut West Library. Contact information: Phone: 215-685-7671.

Eastwick Library's Spring Egg Hunt
Where: Free Library of Philadelphia Eastwick Branch, 2851 Island Avenue
When: 1 p.m.
Join the Friends of Eastwick Library for a Spring Egg Hunt inside the library. Contact information: Phone: 215-685-4170.
Woodland Presbyterian Spring Fling and Egg Hunt
Where: Woodland Presbyterian Church, 42nd and Pine
When: 12:30-2:30 p.m.
Come out this Saturday to the Easter Spring Fling at Woodland Presbyterian at 42nd and Pine. Hot Dogs, lemonade, basket making, egg decorating, balloon animals, face painting, egg hunt and more! The Egg Hunt begins at 1 p.m. Enter a raffle to win some delicious honey bunny bread. Make a Easter Egg Race Car with the Build-It-Bus.
Sunday, March 31
The Great St. Mary's Easter Egg Hunt
Where: St. Mary's Church, 3916 Locust Walk
When: after Easter Sunday service, approximately at 1 p.m.
All children and their families are welcome. BYOB (Bring Your Own Basket).