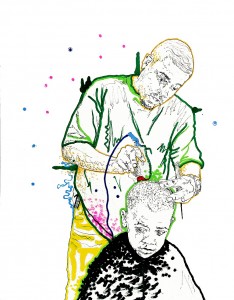 OK, stop. Before you read any further go check out the video below.
Done?
Cool right? That piece is by West Philly artist Nilé Livingston and is part of the "Baltimore Avenue Series," which she will show on Monday, June 25th at The Gold Standard Café (4800 Baltimore Ave.) from 5 p.m. to 7 p.m.
Livingston describes the exhibit as:
"Biographic interpretations of growing up in West Philadelphia have inspired me to explore endless character encounters. I sketch my ideas on paper and then collage them in Photoshop. Creating art is my relentless urge to explore sources of anxiety, document interactions, share memories, as well as provide evidence for narrative works that address social, environmental, and technological changes."
You can read more about Nilé at her website.