The Zoning Board of Adjustment (ZBA) recently acted on two disputed West Philly development proposals. The ZBA approved a developer's proposal to turn the long-empty Apple Lofts Storage building at 780 S. 52nd St. into a 112-unit apartment complex. But it denied the proposal to convert the adult video store near 43rd and Chestnut into a state Wine and Spirits Shoppe.
The Apple Lofts project, which required a rezoning from industrial to residential, garnered wide support from many residents and businesses nearby. Dozens of letters in support of the project, proposed by Iron Stone Strategic Capital Partners, came into the ZBA. Those in favor included the Cedar Park Neighbors Association and community radio station WPEB. That support outweighed the opposition, which was orchestrated by the Community Achievement Association (CAA). The CAA, as the City Paper recently reported, is essentially one person – West Philly resident Shawn Kelly.
Kelly submitted a thick file of petitions and community meeting minutes to the ZBA. Concerns included an increase in surrounding residents' property taxes and the environmental hazards, including the disruption of toxic soil at the site.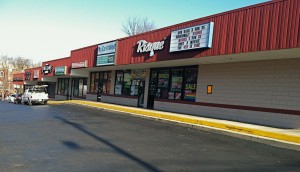 Meanwhile, the ZBA denied the proposal to convert Risque Video (pictured), the largest storefront in a strip mall at 43rd and Chestnut, into an "upscale" liquor store. Many West Philly residents supported the proposal because of the closing of a Wine and Spirits Shoppe at 4049 Market Street earlier this year. That closure has put considerable customer pressure on the remaining local shop near 49th and Baltimore.
The Spruce Hill Community Association last month tentatively supported the proposal with the stipulation that the 5,000-square-foot space be converted to an "upscale" store.
But many Muslim residents who live near the location oppose the proposal. The plaza also includes a halal restaurant and butcher shop. The Masjid al-Jamia mosque is a block away on 43rd and Walnut.
This is not the first time the ZBA has rejected a plan for a liquor store in the area. In 2007 the ZBA rejected an application for a liquor store near 43rd and Walnut – across the street from Masjid al-Jamia – after vocal opposition from Muslim residents.
But this one might not be over. The ZBA is currently reconsidering the denial after an appeal.