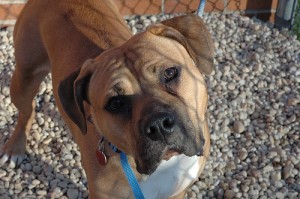 This week's featured dog is Apollo, an adorable honey-colored 1-2 year old mutt (Pit Bull Terrier/Mastiff mix). Whatever he may be, he is one handsome dog!
Though he weighs about 64 lbs, Apollo is on the medium size with shorter legs and a big old loveable head. Apollo is pretty nervous being in the loud, crowded shelter but is dealing with it as well as he can. He stays lower to the ground while walking through the kennels, but once outside he will climb into your lap for attention and he loves being petted.
Once he's loosened up a bit, he loves to play tag around the runs. Apollo showed no issues with basic or advanced handling and actually seemed to enjoy the attention. He also showed no issues with food. He was pretty distracted during his cat-test so he'll need another one before going home with any.
Apollo was a little uncomfortable meeting the more pushy dogs at the shelter, but did not react negatively. He likely just needs some time to feel more comfortable there before he'll begin to play with them. Please bring your resident dogs down to the shelter to meet Apollo!
Apollo has lived with young children in his last home and was playful with them, per his former family. Families with children under 12 should bring them down to meet him. Apollo shouldn't go home with children under 5 right now since he is still on the shyer side and will likely be more energetic once in a home. Please come meet this sweet boy today!
Apollo is located at ACCT Philadelphia, 111 W. Hunting Park Avenue. Adoption hours are 1-8 p.m. Monday through Friday and 10 a.m. – 5 p.m. on weekends. If you are interested in fostering, please contact nsmith [at] pspca.org or jsweeney [at] pspca.org. For more information about ACCT including adoption and foster information please visit www.acctphilly.org.