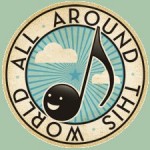 The next All Around This World session, Jay Sand's songs, rhythms and movement extravaganza for kids, starts tomorrow. This time Jay and the little ones will be having a look and listen to Eastern Europe and the Baltics. The 45-minute classes are aimed at kids 0-8 and are divided into age categories.
The full schedule is here. The winter session runs through March 5 and includes a holiday break from December 20 – January 2. All of the classes take place in Jay and family's West Philly living room.
Jay and friends will also also be holding events at two local shops over the next few weeks. The first, with Cat's Pajamas' Emily Bate, will be at Milk and Honey on Saturday, December 11 at 2 p.m. This is a free workshop, but space is very limited. RSVP here. Another, a workshop with the Eastern European women's vocal ensemble Svitanya,  is Sunday, December 12 at 4 p.m. at the Green Line Cafe at 45th and Locust. This workshop costs $10 for one child, $5 for first sibling and $3 for second sibling. More to come on the others.