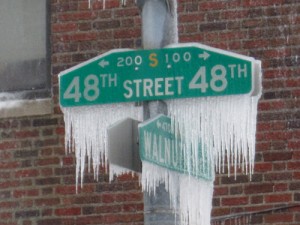 Within a day of the Jan. 10 at the Windermere Court Apartments at 48th and Walnut Street people from around the area stepped up to help the 100 or more people that the fire made homeless. Folks donated clothes, money and other things to the Salvation Army, the Red Cross and other organizations. Little of that help has seemingly made it to the victims. We wanted to alert readers to a discussion on our original story on aid to the victims. Here is a sample comment from Lara, a former resident of Windermere Court:
I am also a former resident of the Windermere apartments, and yes, I can confirm that none of the clothing donated to the Salvation Army goes directly to us. And the same goes for any money donated to the Red Cross – it DOES NOT go directly to us. We have each been given a $100 voucher to use at a Salvation Army store, in one visit, before mid February. As far as donated clothing goes, unfortunately I have no idea where it can be donated where it will be held for us. Some of us have found adequate clothing through friends, coworkers, and the help of other former residents of Windermere Court. Others have had more difficulty finding what they need. I will say this though… we have barely seen any of all of the aid we keep hearing of, and it is not only disheartening, but angering. Where is it going? We (many former residents) keep reading misinformation about such resources that have supposedly been provided to us in news articles again and again. We have not been put up in hotels or apartments by anyone but perhaps friends or family, and we have been mostly fending for ourselves at the same time as grieving what we've lost. We've been communicating with one another and have been each other's best source of information and resources. I wish I could help you help us, but I don't know exactly how to do that.
See more comments here. Next week we plan to do a one-month update on what's happening with fire victims and the building.