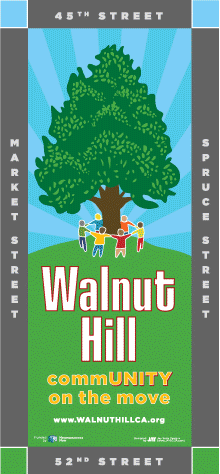 The Walnut Hill Community Association (WHCA) is holding a Community Day next weekend on the grounds of the old West Philadelphia High School and is organizing a cleanup this Saturday to prepare the area for the celebration. The cleanup will take place on Saturday, Oct 4, between 9 a.m. and 12 Noon and volunteer help will be greatly appreciated.
Volunteers are needed to pull weeds, do light gardening work, and sweep up leaves. All residents and friends are invited to join in and all ages are welcome. Light refreshments will be served and the following items and supplies will be provided: t-shirts, brooms, rakes, shovels, gloves, and more.
Here's more information on volunteer sign up:
• All volunteers meet at 47th & Locust on Saturday, Oct. 4, at 9 a.m.
• Coffee & Bagels
• Registration/Sign-in
• Walnut Hill Community Association membership table
• Community Day 2014 volunteer sign up and flyers onsite
The Walnut Hill Community Day will be held on Saturday, Oct. 11, at 10 a.m. – 4 p.m. and will include lots of fun activities, raffles, live entertainment, food and drinks, a farm stand, and much more. More information is coming soon. Interested vendors (food truck vendors: $50 per space; craft tables: $25 per space) are asked to contact Tyson at 267-499-6492 or Amin at 267-975-1962.
Just a reminder that Walnut Hill boundaries are between 45th and 52nd Streets and between Market and Spruce Streets. Here's contact information for WHCA:
Walnut Hill Community Association
4637 Walnut Street
Philadelphia, PA 19139
215-472-1381
walnuthillevents@gmail.com