The University City District's recently released "The State of University City" report confirmed the worst-kept secret this side of the Schuylkill: The Meds-and-Eds juggernaut that fuels this part of the city is gaining speed.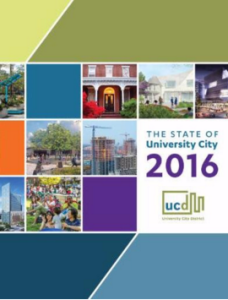 The report, released every fall, tracks everything from rents, to occupancy rates in office buildings to the number of bike commuters in the University City District defined as the Schuylkill River to 50th Street, south to Woodland Avenue and north to Market Street and, in the Powelton neighborhoods, north again to Spring Garden Street.
According to this year's report, a whopping 77 percent of the jobs in the area is in education and health care with "entertainment, hospitality and retail" in second with 8 percent. The University of Pennsylvania and Penn Medicine alone now account for more than 40,000 of those jobs.
The report shows that all of those good-paying jobs are attracting a lot of young, well-educated people. About 40 percent of the area's population is between 20 years of age and 29. The number of children (5-14) in the area has dropped steadily since 2000.
Rents have also increased in most neighborhoods. The steepest increases have been in the Powelton Village neighborhood, where the median rent is just over $1,500 per month. The highest rents are in the "Central University City" area (roughly east of 38th Street and south of Market Street), where the median rent is just over $2,500 per month.
Median home prices grew from about $100,000 in 2000 to $300,000 in 2006, but have remained at that level since then, according to the report. But, of course, real estate prices vary widely by neighborhood. Prices in Spruce Hill, which includes the Penn Alexander School catchment, are just over $375,000. That's a slight decrease compared to 2009 prices. The lowest median prices are in West Powelton at about $200,000.
Many residents' fear of a loss of economic and racial diversity has followed the economic gains in the area. Technical.ly Philly talked to Seth Budick, senior manager of policy and research for UCD, ahead of the report's release. "Prices are going up. The social consequences of that I don't think we're going to comment on too much," Budick said. "For the most part, though, if you look at that rent figure … you'll see a huge diversification."
Here are some other tidbits:
• The population has steadily grown since 1990 and now stands at about 51,000.
• Well over 50 percent of people have at least a bachelor's degree, while in the city as a whole that number is closer to 24 percent.
• University City District residents are three times as likely to commute on foot, bike or transportation than by car. Only 23 percent of residents reported commuting by car, compared to 59 percent of Philadelphians in general and 86 percent of all Americans. That number has remained steady since 2000.
• Occupancy rates for office buildings in the district are among the highest in the region at about 97 percent, according to the report. Developers, of course, have noticed and new office buildings are under construction or in the works.
– Mike Lyons