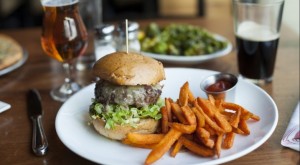 University City Dining Days, a popular annual event helping drive traffic to local restaurants during slow summer months, will return on Thursday, July 16 and you can make your reservations now. This event is a great chance for those who like to eat out, but can't always afford it, or want to check out some new restaurants in the area. As always, the event is based on the concept "3 course, 3 prices" – a pre-fixe three-course dinner special for $15, $25 or $35.
Thirty three restaurants, including craft beer bars, cozy BYOB's, celebrity chef and ethnic restaurants, are participating in this year's Dining Days. Six restaurants are participating in the event for the first time: 48th Street Grille, Hai Street Kitchen & Company, St. Declan's Well, Wahoo's Tacos and More, William Street Common, and Zavino University City.
See the full list of participating restaurants, menus and prices at www.ucdiningdays.com. Please note that prices are for dinner only and do not include tax, gratuity or alcohol. Reservations should be made directly through the participating restaurant.
The event runs through July 26.