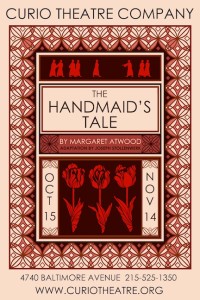 So it's the not-too-distant future and an oppressive Christian theocracy has overthrown the U.S. government. Most women are not allowed to read. Things are fairly grim. That's the setting for the opening performance of The Curio Theatre Company's 11th season.
Curio is staging the Philadelphia premiere of Joe Stollenwerk's The Handmaid's Tale, a work based on the Margaret Atwood novel. The show previews on Oct. 15, and the opening is slated for Oct. 23.
In a solo work, Curio company member Isa St. Clair plays Offred, who takes us back to a world after a staged terrorist attack in a cautionary tale that predicts our worst fears of fundamentalism. Offred is a heroine who struggles to maintain her individuality, personhood, and hope for a better future.
The Handmaid's Tale closes on November 14. Curio shows run on a Thursday, Friday and Saturday starting at 8 p.m. Tickets are $15-$25 per person. Tickets and more information are available online at www.curiotheartre.org.