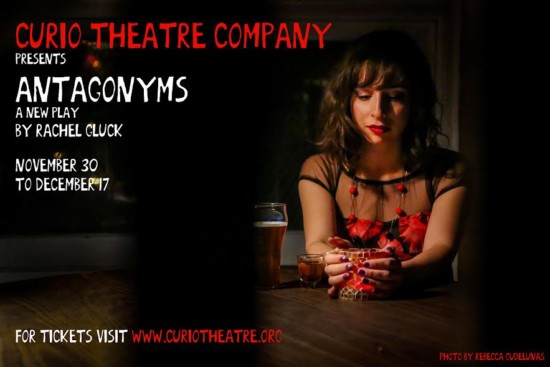 It's not often you get to see a play's world premiere. Here's your chance with the debut of Antagonyms, which opens at the Curio Theatre Company on Friday, Dec. 2.
Written by playwright, actor and Curio member Rachel Gluck, Antagonyms tells the story of four young Philadelphians.
"In Antagonyms, four twenty-somethings wrestle with their sense of self and their relationship to each other as they find themselves at each other's throats and in each other's beds. Contemporary millennial anxieties fuel a stylized high-stakes power game, creating a world in which old Hollywood glamour mingles with the sticky floor of a West Philly dive bar," said Gluck.
An antagonym is a word with two opposite meanings, such as "bound." One could be on the move, "bound" to Center City for example. Or "bound," as in tied up, unable to move.
The performance is directed by Jack Tamburri, and the cast includes Alee Spadoni, Alexander Scott Rioh, Andrew Carroll and Colleen Hughes.
This production has mature content and not recommended for children and there are themes related to sexual violence.
You can catch a preview performance tonight and Thursday night. Antagonyms runs on Thursdays, Fridays and Saturdays through Dec. 17. All performances begin at 8 p.m.
For tickets visit the Curio Theatre Company website or call 215-525-1350.