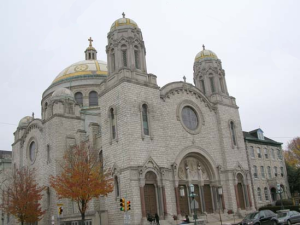 West Philly's architectural gem, St. Francis de Sales church, has been going on some extensive restoration in the past several years. Next week, there is a chance to contribute to the church restoration fund in a fun and delicious way. The annual neighborhood social, "Some Enchanted Evening," will take place at the parish (4625 Springfield Ave.) on Saturday, March 4, and will feature a live, 10-piece band, dinner catered by the Gold Standard Cafe, and open bar on wine and beer. The St. Francis de Sales hall will be transformed into a magical space for the evening.
Tickets are $45 and include dinner and unlimited wine and beer (bring an extra $5 for the liquor bar).
Please note that this is a non-religious event, and everyone is welcome. Doors open at 7 p.m.
For more information and to purchase tickets, go here.