There are tons of festive events happening in the area this weekend, including one of the biggest local shopping events of the year, a new restaurant grand opening party, a craft show opening, a big FREE holiday family event, a dance party supporting a local non-profit, and more. More information about these and other upcoming events is below. If you want to buy a Christmas tree or holiday wreaths, greens and decorations this weekend, check out this post. For local gift ideas and more holiday shopping opportunities, visit our "Buy Local for the Holidays" page.
Friday, Dec. 4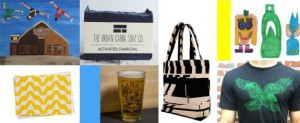 • University City Arts League Holiday Craft Show Opening Reception, 6 – 8 p.m., 4226 Spruce St.
Thirty local artists will present their wares—just in time for the holidays! This is a great opportunity to shop for hand-made gifts for you and the whole family, such as cards, pottery, soaps, t-shirts, and more! Complimentary drinks and eats will be offered while you shop during the opening reception this Friday. The Craft Show is open daily Dec. 4-20. Monday-Friday, 5-8 p.m.; Saturday and Sunday, 12-6 p.m. Closing reception will take place on Dec. 20, 4-6 p.m. The list of 2015 vendors is available here.
• Clarkville Grand Opening Party, 5 p.m., 43rd and Baltimore
New Baltimore Avenue bar and restaurant, Clarkville, is opening this Friday. The grand opening party kicks off at 5 p.m.
• West Philly jeweler Amy Neukrug presents her holiday collection at Hello World, 5 – 9 p.m., 3610 Sansom St.
• The Bald Soprano opens at Curio Theatre, 8 p.m., 48th and Baltimore  Continue Reading