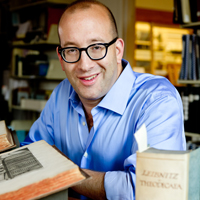 We're a bit late on this, but it would be a shame if we fail to mention this great achievement by one of our neighbors.
Congratulations to West Philly's Jacob Soll for receiving the MacArthur award, sometimes called the 'genius award.' Soll, a history professor at Rutgers University-Camden, is among this year's 22 recipients of the prestigious award, which recognizes "exceptional merit and promise for continued and enhanced creative work." The award includes a $500,000 grant that the recipients will get "no-strings-attached" over the next five years.
Newsworks.org has a great interview with him on this page.