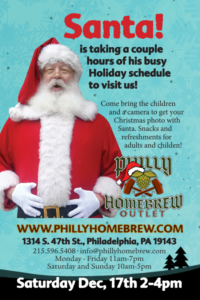 Santa Claus and Hanukkah Harry Are Coming to Town!
Mark your calendars. On Saturday, Dec. 17 from 2-4 p.m., the one and only Santa Claus is loading up his sleigh with his best friend Hanukkah Harry to serve up family photos, Santa selfies, and the world's best Latkes to you and your family. Everyone is invited, so don't hesitate to just stop in and take some quick selfies with the legend… no, not Elvis!
Snacks and refreshments will be provided by Philly Homebrew Outlet, but feel free to bring some of your own treats and liquid concoctions to share.
Huge Selection of Bottles and DIY Kits including Bagels & Cream Cheese, Soap, Mozzeralla, Vegetable Fermentation, Kombucha, Beer, Wine, and More!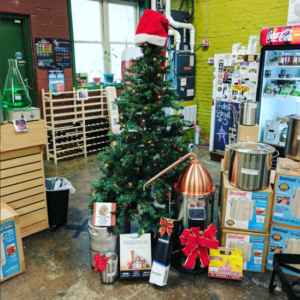 Looking to bottle up that special Limoncello, Bitters, Cordial, Hot Sauce or whatever other delicious liquid concoction that you made for gifts? Look no further. Philly Homebrew Outlet is a one stop place for bottles, caps, corks, shrink wrap, wax, and more.
The shop also has new vegetable fermentation kits, kombucha kits, soap making kits, and more!
Philly Homebrew Outlet West is located at 1314 S. 47th Street and open Mon-Fri: 11 a.m.-7 p.m. and Sat-Sun: 10 a.m.-5 p.m. For more info, call us at 215.596.5408 or visit our website.
https://www.facebook.com/phillyhomebrewoutletwest/
https://twitter.com/phillyhboutlet
https://www.instagram.com/phillyhomebrew/