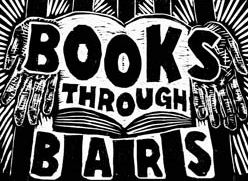 An important discussion about incarceration has gained traction nationally in recent years and an important facilitator in that discussion locally is the organization Books Though Bars.
The group's primary mission is to obtain, pack and ship books to inmates in the region, a volunteer-heavy activity they have been doing in West Philly for more than 20 years. There is a chance this Saturday to be part of this ongoing conversation, meet people from Books Through Bars and other organizations engaged in incarceration issues and raise a little money to keep their work going.
Books Through Bars is hosting a fundraiser tomorrow (Oct 18) at the LAVA Space at 4134 Lancaster Ave, beginning at 2 p.m. The event will feature free workshops and speakers (2 to 6 p.m.) from the following organizations: Decarcerate PA, Hearts on a Wire, The Center for Returning Citizens, HRC, Books Through Bars Address This!, and DreamActivist PA. After that there will be a rockers show (6-10 p.m.) hosted by MMGZ.
Please bring $5-8 to donate at the event. Also, Books Through Bars' Business, Science and Math shelves are pretty empty right now, so if you have any books that you don't need please bring them to tomorrow's event or to the A-Space where the organization is located (4722 Baltimore Ave).
For more information, check out the Books Through Bars Facebook page.