UPDATE: Tonight's performance by the Bernard Samuels Trio has been cancelled due to wet weather. Progressive Movement is scheduled to perform next Friday, June 10.
This is a reminder that Cedar Park Neighbors will be holding two of their biggest annual events this weekend.
Cedar Park Jazz Nights will kick off this Friday at 6 p.m. with a performance by Bernard Samuels Trio. This is a free weekly event, happening every Friday from 6 -8 p.m. at Cedar park (49th and Baltimore). Please bring your blanket or chair and enjoy live music by Philly's best jazz musicians and guests. More information and performance lineup through July 29, read this post.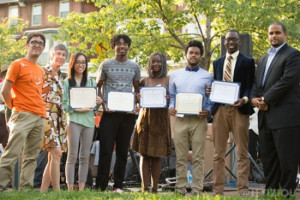 On Sunday, June 5, neighbors are invited to support local youth who are heading out to college this fall at the Annual Gary Bronson Scholarship Fundraiser, which will be held from 4-6 p.m. at St. Francis De Sales Parrish School Auditorium (917 S. 47th St.). There will be live music, food, drink and an opportunity to meet your community.
The Gary Bronson Memorial Scholarship Fund is named in honor of the visionary Cedar Park resident who founded the CPN Scholarship Committee in 1988. This scholarship fund supports young adults living in Cedar Park who are committed to pursuing higher education. The scholarship provides them with both mentorship and financial support to help them be successful in their post-secondary endeavors. You can purchase tickets for the event ($40; free for children under 12) or make donations to the fund here. Tickets will also be available at the door.