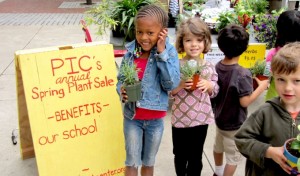 UPDATE (April 15, 2016): If you wanted to pre-order your plants at the annual Parent Infant Center's Plant Sale, but didn't get a chance yet, here's good news: Pre-sale deadline has been extended through Monday, Apr. 18. Please go to http://picplantsale.org/ to browse the selection of plants and to make your purchase.
A large variety of annuals, perennials, fruits & veggies, herbs and other plants is currently available for pre-order at the annual Parent Infant Center (PIC) Spring Plant Sale. The sale will be held on April 29 and 30 at the beautiful St. Andrews Chapel (42nd and Spruce), which will be turned into a pop-up garden center that weekend.
This annual event supports PIC's Tuition Assistance Fund. About 100 volunteers help prepare and run the sale.
Over 100 varieties of plants are available for online pre-order, and you can pick up your order on Thursday, April 28 (for orders over $250), or during the sale on Friday, April 29, 4-6 p.m. and on Saturday, April 30, 10 a.m. – 3 p.m. There are also $1 raffle tickets available for a chance to win a $100 gift card to Talula's Garden.
For more information about the sale at St. Andrews Chapel (42nd and Spruce), visit: http://www.parentinfantcenter.org/support-pic/plant-sale