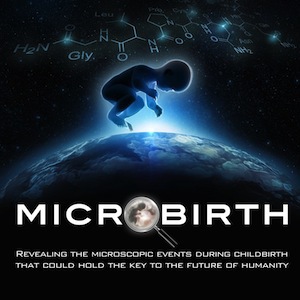 There will be a great event this Tuesday to support free childbirth classes in the area. Microbirth, a brand new documentary looking at childbirth through the lens of a microscope and raising awareness of the importance of "seeding the baby's microbiome," will be screened. All proceeds from the screening will benefit childbirth classes offered by the Helen O. Dickens Clinic at the Hospital of the University of Pennsylvania.
In addition to free childbirth classes, the clinic provides birth balls, sleep sacks, baby books, and healthy snacks to attendees, mostly low-income families.
The film will be followed by a discussion panel with Penn/CHOP faculty and researchers, and there will also be concessions and a lot of fun items to raffle off. Suggested donation is $5-$20 (click here to buy tickets).
West Philly community members are welcome to attend this event. "The film is awesome, and it would be great for everyone to see," writes Nicole Chaney, one of the event organizers and the Dickens Clinic staff member.
The event will be held at the University of Pennsylvania (Hall of Flags, Houston Hall, 3417 Spruce St), from 5:45 – 10 p.m. Check out the event's Facebook page.