July was great in West Philly, with its traditional Shakespeare in Clark Park nights, University City Dining Days, and other popular events. August doesn't look too shabby either with more outdoor theater and concerts, outdoor movies, and more. Here's what's happening this month in the area:
Theatre in the X will present three Sundays of three plays at Malcolm X Park (51st and Pine): The Meeting by Jeff Stetson, Love, Queens who Suffer from Post-traumatic Stress Disorder by Jamila Capitman and Heather Thomas, and New Black Math by Suzan-Lori Parks. Aug. 7 at 6 p.m., Aug. 14 at 3 p.m., and Aug. 21 at 6 p.m. Free event.
BlackStar Film Festival featuring work by and about people of color in a global context will take place at the International House Philadelphia (37th and Chestnut) on August 4-7.
After taking July off due to the heat and student exodus, Uhuru Flea Market will return to Clark Park "B" (43rd and Chester) on Saturday, Aug. 20, 9 a.m. – 4 p.m. (rain date: Sunday, Aug. 21).
The 40th Street Summer Series' August concert will feature a powerful performance by The Liberian Women's Chorus for Change, an award-winning group composed of renowned singers, dancers, and musicians from Liberia. Saturday, Aug. 20, 6 p.m. For more information, visit the event's Facebook page. Free event.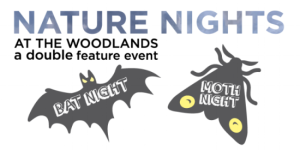 Due to rain, Bat Night at The Woodlands was cancelled last week, but all are invited this month to enjoy a double feature event – Bat and Moth Night – on Thursday, Aug. 25, starting at 6 p.m. Free event.
The Clark Park Movie Series kicks off on Friday, Aug. 26 with a screening of Finding Nemo. This is a free, family-friendly event. Movies begin at dusk.
West Philadelphia Jazz Heritage Series will continue at Malcolm X Park. August performances: Aug. 4 – Budesa Brothers; Aug. 18 – Perfect Solution. 7 p.m. Free.
Summer Nights Concert Series continues at Penn Museum. Concerts are every Wednesday at 5 p.m. Aug. 3 – Barakka; Aug. 10 – Leana Song; Aug. 17 – El Caribefunk; Aug. 24 – Farah Siraj; Aug. 31 – Animus. $10.